SE Ranking is quickly establishing itself as a valid alternative to the more established SEO tools.  
We originally signed up because of its more accessible price, thinking that we would switch to one of the more expensive options later down the line. Two years on and we're still with SE Ranking (and staying put).
Name: SE Ranking
Founded: 2013
Founder: Valery Kurilov
Type: SEO Tools
Customers: 300,000 +
Price: From USD $18.6 /month
Exclusive Offer: Save up to 30%!
With 5 offices around the world, more than 1oo employees and over 300,000 users SE Ranking isn't startup with an MVP scrambling for sign-ups, but a company that has built a solid product and excellent customer support — this is an important consideration when researching a SaaS tool, as much as the feature set and pricing.
Before we start, we would like to thank the team at SE Ranking for the exclusive discount they have agreed to offer our customers (and if you made it to WordCamp Brisbane last month and took one of our goodie bags you would have found the discount coupon in it).
Who is SE Ranking for?
The short answer is 'everyone', so for SEO pros as well as the rest of us, whether an agency or on the client-side. Their feature-set is complete enough to compete with the pro SEO tools folk usually talk about, but there are also a number of functions that are particularly useful for non-SEO experts that need to be handheld through some of the key processes. These include:
Website Audit – Automated checks will never beat an expert's keen eye, but are a good starting point to flag the more obvious issues.
Marketing Plan – This is nowhere near a plan an experienced marketer would put together, so more of a checklist for 'must-do' tasks covering keyword research, on-site and off-site optimisation, social media strategies and more. Do this before the Website Audit.
Business Listings –  Another to-do list comprising 19 Australia web directories where your website should be listed. Please note, it won't submit your listing — you'll find direct links to the forms.
These tools will help a newbie get started but not replace the multiple facets of thorough, strategy-led ongoing SEO work. The good news is that SE Ranking is well equipped to support that too.
3 great SEO tools for non-SEO experts
SE Ranking's feature list is long so we'll focus on three that a business owner or marketing pro would access on a regular basis, rather than an SEO specialist that needs to deep dive into the data.
We'll start with everyone's #1 preoccupation: how keywords are ranking. But before looking at this a couple of words about categorizing them. The platform adopts the following hierarchy:
Projects (groups of Websites) > Websites > Keyword Groups > Keywords
For each, you can choose to track SEO efforts for any number of websites (but are limited to 10 on the OPTIMUM plan) and different search engines. Before starting make sure you plan out your SEO research and monitoring efforts across all of your properties and markets. Also, you can set permission for different users at Project level.
Detailed Rankings
Once you have added the keywords you want to track, and decent volume of data has accrued over time, you'll find yourself checking and obsessing over Detailed Rankings. SE Ranking's UX and filtering options make the tabular info easily readable  and 'scannable':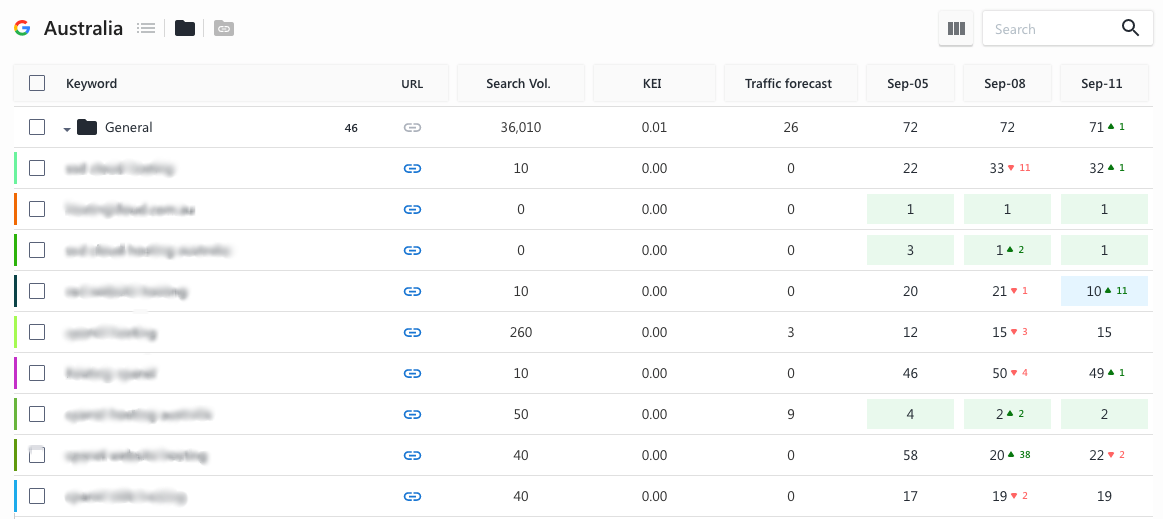 Before you attempt to make out blurred keywords please note that this isn't our own SEO data :)
A couple of things to look out for here. Don't worry too much about the aggregate numbers for the Group of keywords (General, in this case). The minute you add or remove keywords to the Group they will be inconsistent with your previous averages.
If you're wondering, KEI stands for Key Efficiency Indicator and is calculated by taking the query frequency and dividing it by the number of search results. You can also display other measures such as: Competition, Suggested Bid, SERP Features and Traffic Forecast.
Looking at the snapshot above, the second-last row stands out as ranking shot up 38 places between 5 and 8 September. This is worth investigating in more detail as you may be able to replicate the same boost for other keywords.
SEO / PPC Competitor Search
Keyword search
Here you can enter a keyword or URL and access a wealth of information . Let's try it out by researching for 'search engine marketing melbourne':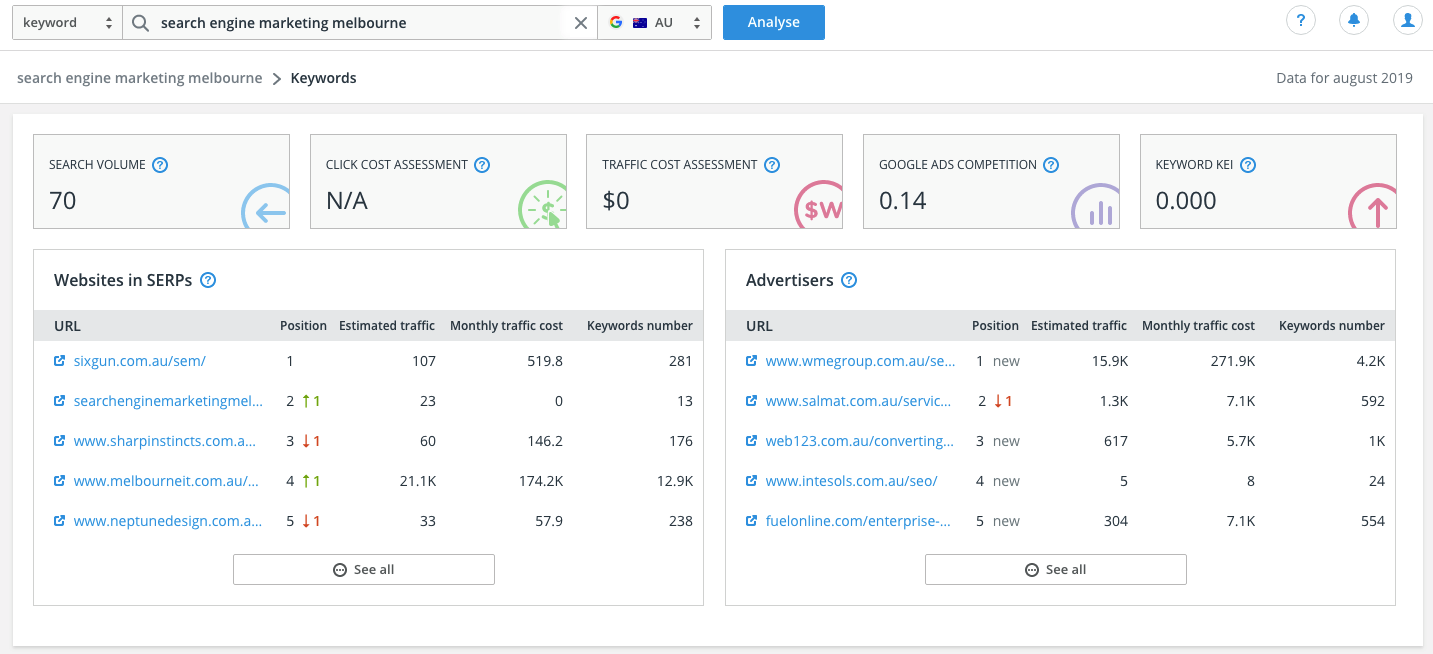 Search volume is displayed first as it's the most important metric; there were 70 searches for the keyword back in August 2019. SIXGUN, an agency that we know well came top, followed by two other agencies.
Key metrics at the top include the CPC (Cost Per Click) for the keyword on Google Ads and the KEI, which we talked about earlier.
The report shows the top 5 ranking websites as well as those who are advertising for the same keyword — good to see what competitors are spending their hard-earned money to chase leads.
Scroll down a little and you'll find Similar Keywords, which are very useful when you're figuring out what keyword to optimise content for. You may want to try and rank for a much more popular keyword – melbourne search engine optimization – which was searched for 3,600 times last month but it's going to be much harder, though, as competition is high; the Competition and KEI values tell you that, as well as the very pricey CPC of $27.71.


Here you can click on the keyword that interests you to get the full report, or the See all button to list more similar keywords.

The Importance of Website Speed on Organic Ranking (SEO) Performance
SIXGUN's founder, David Pagotto, contributed to our blog back in May writing about the importance of website speed in search engine ranking. Read the article…
Domain search
Another way to research keywords is to see how your competitors are performing and reverse engineer their strategies.
Let's look at a very interesting and competitive market: mattresses. There were 22,200 searches for the keyword mattress in August and the top result goes to Snooze, a brand that has been around many years. Koala, a newcomer, was second.
What's interesting here, though, is that if you look at the Similar Keywords you'll see that koala mattress was searched to 50,000 times in the same period! That's more than twice the amount for the generic term for the product, and a reminder that building a brand is just as important as the technical and tactical Marketing work.
Let's have a look at the domain report for koala.com: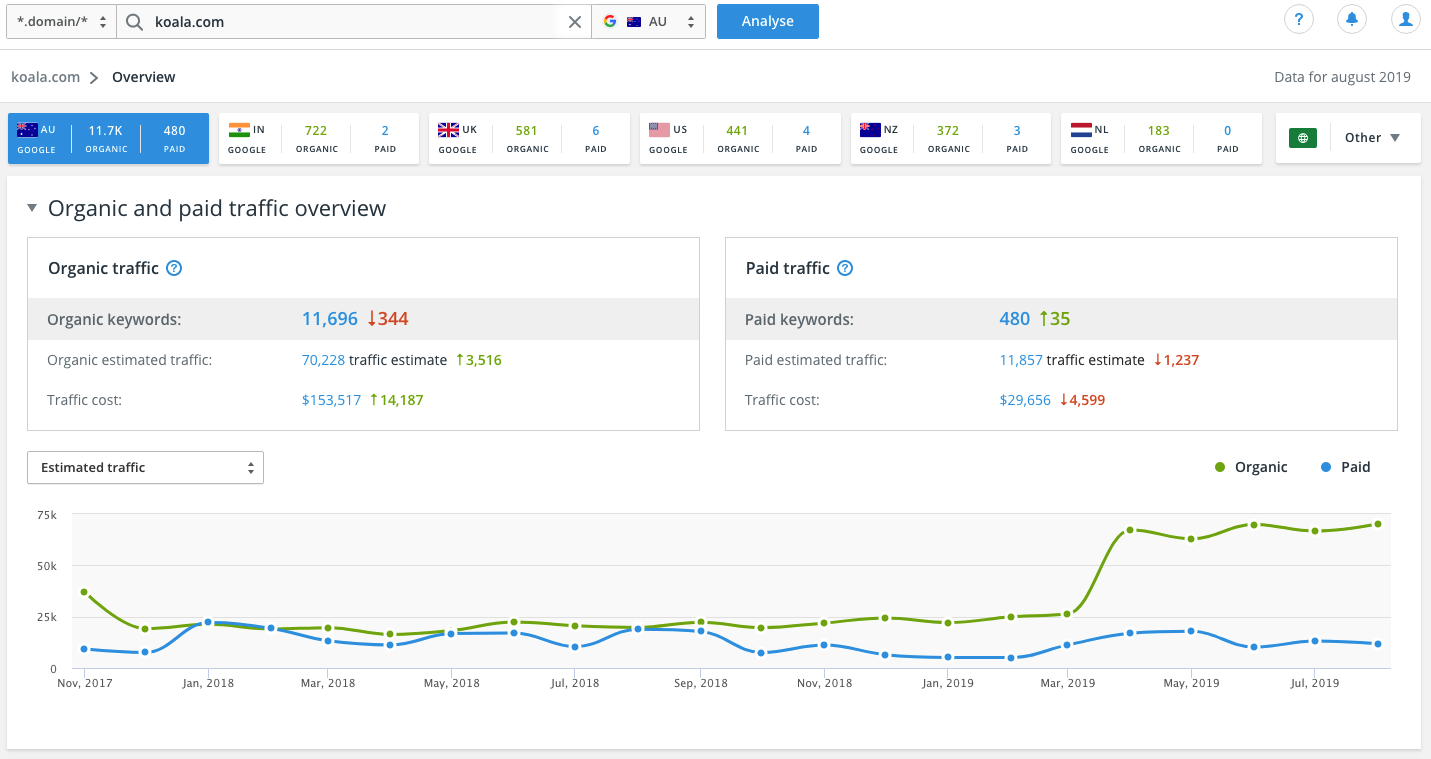 Here you can see stats for both organic and paid traffic keywords, estimated traffic and costs. You can also see KPIs for other markets at the top, which you may want to keep an eye on if you have an international customer base.
The trend line stands out and no doubt that Marketing management at Snooze have asked their SEO specialists to explain what gave koala.com.au such a big bump in traffic in March this year.
You can update the chart to show you the trend line for the number of keywords Koala has ranked for over time.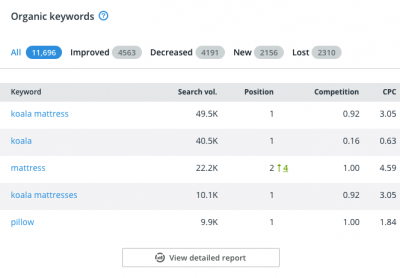 Scroll down and you'll see more snapshots of data for Organic Keyword performance, their Distribution, Organic Competitors and a Comparison of koala.com semantics with competitors widget that compares keyword volume metrics Vs everyone else.
The detailed report for Organic Keywords shows you how every keyword ranks along with the usual metrics and a link to the actual page on Koala's websites that is ranked.
All of the above is repeated for Paid traffic.
Backlink Checker
Out of the top results, a full 99.2% of all websites had at least one external link.
– Moz
This is from a study by Moz called Can You Rank in Google Without Links? New Data Says Slim Chance, and while it seems to state the obvious it backs its claim with data and covers some important link building best practices.
Apart from helping you rank, checking backlinks for your website and your competitors help you to:
See what websites, type of websites and type of content is linking back to you and your competitors
What kind of link building strategies have been adopted by websites that rank high for important keywords
Discover spam links (so that you can then disavow them)
Find influencers you may want to work with
Discover who your competitor's customers are
Now, let's have a look at the backlinks to WP Feedback, a (rather good) WordPress plugin that we recently featured in our blog. The plugin allows you to select any part of a webpage and leave a comment in a virtual PostIt note. Bear in mind that this plugin was only launched a couple of months ago and that the owner, Vito Peleg, did a superb job promoting it.

Not bad going! Below these key metrics you  get the list of backlinks too, of course:

These are just the first 10 of 1,336, ordered by Domain Trust — great to see that we came top beating WordFence, a competitor and WordCamp USA 2019 too :)
What's interesting to see here are links that have 'powered by' as the anchor. We checked many and could not find the link until we came across one that did… solving the mystery.
When you install and activate the WP Feedback plugin, the widget that appears on the front end includes a 'Powered by WP Feedback' link at the very bottom (the WP Feedback bit is a graphic). This means that Vito's customers are using his plugin on their live websites as Google's bots visit them. This wouldn't have been an intentional strategy for building links but it's working nevertheless (until the plugin is switched off and the next Google bot comes along).
The lesson here is that monitoring backlinks is not just a numbers game. Ofen you can uncover strategies and tactics that can help your SEO efforts.
Also, if you're using a tool like WP Feedback you may want to copy your live website to a staging environment and do your changes there, and not get crawled by Google. You can read more about this in our Project managing your WordPress hosting ops with Teamwork eBook.
What else is worthy of note in the SE Ranking toolbox?
Have a look at the Tools tab and check out the Search Volume Checker, Keyword Suggestions, Index Status Checked and a couple more.
SE Ranking integrates with Google Analytics and Search Console to complement your SEO data and calculate ROI using the SEO Potential tool.
The Reports Builder allows you to do just that, with some pre-defined templates or the option to create your own. You can generate these manually or have SE Ranking send them to you by email on a schedule.
There is also a Social Media Management tool for auto-posting social media updates and accessing analytics from social platforms.
Is SE Ranking good enough for the pros?
Absolutely, and there are many that do. You need the be on the Plus plan, at least, to have access to white labeling and the page change monitor tols. Here are some more reasons:
Grouping and permissions allow you to keep client projects separate
The SEO Potential tool can help you give your results a dollar value
You can automate your scheduled client reports
Results-based invoicing – Set a price for each keyword to achieve a particular position
You can transfer Projects to other accounts, keeping one year worth of data
Another good reason is that SE Ranking is cheaper than the big-name tools that all seem to have entry-level plans at USD $99 a year.
Great value for money
Unless you're managing a larger website or more than 10 then you can get away with OPTIMUM plan at USD $39 a month. If you're happy with weekly ranking checks and to pay upfront for the year then you'll be USD 18.60 a month out of pocket, which is exceptional value given the features you get.
If you want to save further… SE Ranking were kind enough to give our readers an exclusive discount:
30% off your plan if you pay annually or 20% any other subscription period
Find out more about SE Ranking
Disclaimer: SE Ranking has not paid for this post, nor are we getting any benefit from recommending them. We only feature and recommend products that we like, use or have tested and  think our customers would benefit from.