440 people registered for WCBNE making it the best, biggest and boldest Australian WordCamp ever!
This may just be a temporary record with WordCamp Sydney round the corner planning big things and Port Macquire with its compelling small is beautiful USP.
First off, a huge thank you to the organisers and volunteers who made it all happen — how did you manage to look fresh and relaxed through it?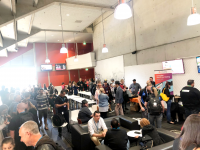 This was my first time at a Brisbane WordCamp and my second time in the city; I'll kick off this piece with some observations about the latter:
The weather. Dammit, Melbourne, why can't you be more like Brissie? It's raining hard as I write this and have already emailed the boss here a couple of links to offices for lease in Brisbane CBD
Brisbane is a WordPress dev magnet. Close proximity to beaches must improve code quality. Can you blame Elliot of Advanced Custom Fields of moving there?
I hadn't seen an electric scooter before and now I have… for a lifetime. But why are kids allowed to zoom by at 25km/h on footpaths there in Queensland? If Tesla launches a scooter with insane mode Brisbanians are doomed
The view from the 72nd floor was magical…
Our 'home' at WCBNE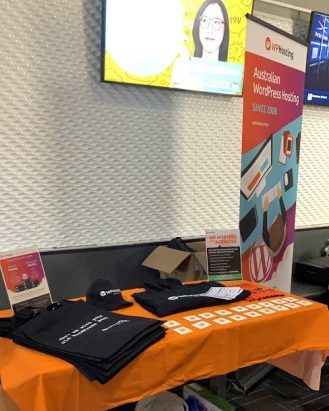 We were strategically positioned close to coffee and food so had a lot of folk asking us questions when queueing for their sandwiches – next year we'll organise some branded cutlery. Our colour palette matched the hall's interior finish too, in case you hadn't noticed.
One of the measures of a successful event is the number of sponsors that set up a stand. There wasn't much diversity, though — we were all hosting providers. Boring! I'm thinking this: should there also be space for plugin authors, SaaS brands and related services to display their wares, so to speak?
I would love to see page builders too. Divi, Oxygen and Elementor… where are thou?
Swag is another event KPI and our stash of hats, hoodies and canvas bags didn't last long. We did learn that sweatshirts are not quite right for the Queensland climate but they were a popular item nevertheless. Our bags were a favorite too and I hope that people are re-using them for their shopping trips and helping spread our message to <br /> up with your old WordPress host.
Best of all was talking to attendees and learning what they need as far as hosting is concerned. You just don't get the same kind of feedback when communicating online, and it was nice to customer hugs too – thanks Noleen!
The sessions (too many to attend, too little time)
I didn't attend as many as I would have wanted and will plan a Netflix-style binge once the recordings are made available.
Here are three worthy of note:
Blocks for beginners, by Luke Carbis.
Last year, following WordCamp Sydney, we wrote that Gutenberg took centre stage. Luke, who is involved in its development, explained what they are and how they work.
This year he covered block development… the easy way. Luke works for Block Lab and has developed a template system to easily build and manage blocks for the new editor.
Block Lab have just launched the Pro version too, so if blocks are a key piece of your WordPress puzzle it's a worthwhile investment.
What goes into a $50K+ website, by Jen Jeavons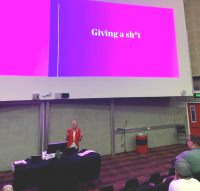 Jen founded a digital agency called Pixel Palace that is strong on strategy and thrives by nurturing meaningful relationships with their clients. They only build premium custom websites and are fanatical about nailing the IA and UX. The results they get more than justify the price tag of their projects.
It was interesting to learn that, for the most, rely on pro plugins to build complex solutions. A reminder of how flexible WordPress is.
Pixel Palance don't quote projects by tallying up the hours it will take them to build a website. Instead, they base it on the value they offer. Value-based pricing is a tricky one but it becomes easier to 'sell' when you have a solid track record to show for yourself.
One point that resonated with most of us is when Jen explained that you have to Give a sh*t about your work and your customers. This is the foundation of any fruitful relationship and one that defines our own business as much as the great tech we have in place.
Hallway Track – Elementor Users, by Michael Viller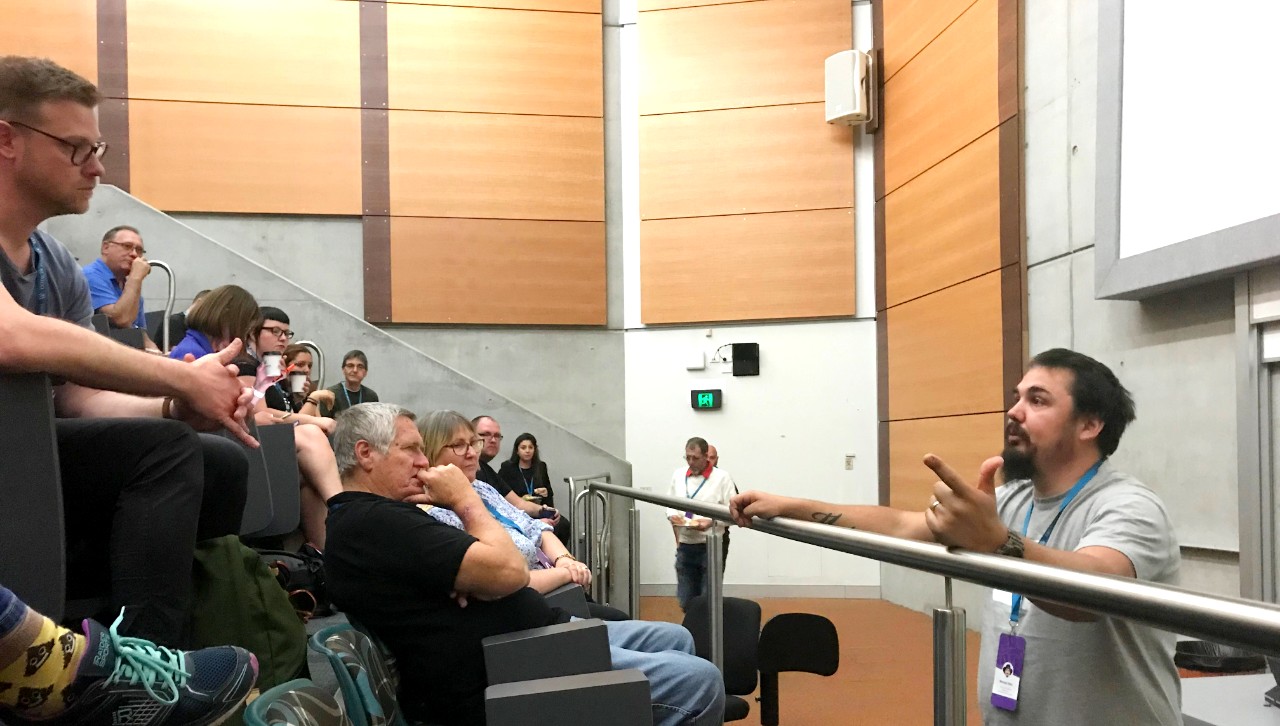 I didn't attend this one but got the lowdown from Mick after the fact. The session was an extension of the ones he holds every month that we are proud to sponsor – the Elementor Gold Coast Meetups.
Mick's sessions are always hands-on and attendees have an opportunity to ask for help for their specific projects. The WordCamp session was well attended which goes to show how popular the page builder has become. Elementor geeks will have also attended Mel Telecician's talk: How Elementor changed my life (for the better).
Related to this, it looks like the Elementor and WordCamp worlds are starting to collide as the former has announced their sponsorship of WordCamp USA. With over 3M installs, Elementor is a major player in the WordPress ecosystem and it makes sense for them to show their faces a WordCamps around the world. With a bit of luck, they will come to Australia soon too.
Concluding thoughts
Attending WordCamp is an opportunity to get a sense in which direction the WordPress universe is going towards. Last year Gutenberg was on top of people's minds and a lot of us were worried about the radical change it represented. This time round that concern wasn't palpable at all. Instead, we're seeing the community embrace the new paradigm via projects like the one Luke Carbis presented.
Related tech is evolving fast too and new players in the WordPress Hosting space means that people have more options, with a couple of which made it to WordCamp the for the first time. We're not staying still either and have a couple of things up our sleeve, so stay tuned. But I think Jen is absolutely right when she advocates meaningful and personal customer care. This really is the magic sauce, and we've been giving a sh*t since we first started back in 2008.


About the author
Lawrence is Marketing Manager at WP Hosting, a father of two, half Italian, half Australian and half Hungarian, AS Roma fan, keen futsal player and addicted to popcorn.