WP Feedback is a communication plugin for WordPress that allows your clients to visually submit feedback and requests directly on their own website.
As there are so many different systems out there that give you the ability to communicate with clients, it can be difficult to choose which one will suit you and your business best. Once you've decided, you may find that things tend to get messy, and often it's a completely separate platform to WordPress and requires you to teach your client how to use it. If only there was a way to communicate with your clients visually and have it all integrated into their website.
Give your clients the power to visually communicate with you
WP Feedback tackles this problem head-on by integrating a visual feedback tool straight into your client's website.
The client is not required to create another login on a different website or leave their website for any reason at all when they want to communicate with you.
They simply enter into what is called "comment mode", which allows them to place markers on any element they want (which is selected based on the div they are hovering over), and leave a comment. This creates a task where they can add the initial comment, assign the users they would like to notify, set the priority and stage of the task and they have the option to take a screenshot of their current view which is inserted straight into the chat automatically.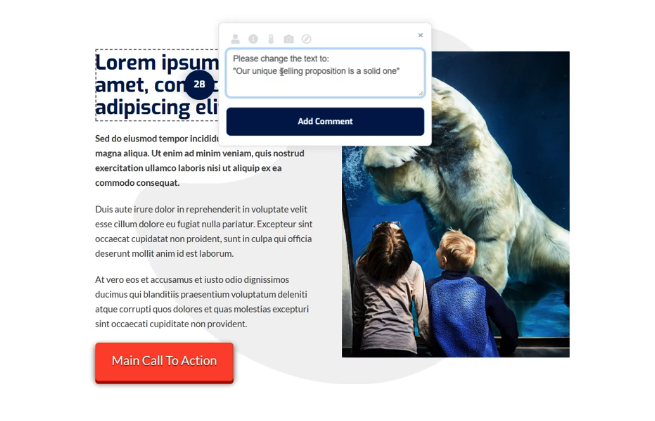 Who is WP Feedback for?
As the WordPress Plugin was developed and designed by a Design Agency in London, it is specifically tailored for any type of individual or agency working in the website industry using WordPress. This could be an Agency or freelancer – anyone who wants to reduce the developed traffic of communication with their clients and have more time to focus on actually working and growing their business.
WP Feedback has an array of great features which are geared towards getting you and your clients communicating efficiently, whether it be to get content, approve designs or provide support.
What does communicating visually entail?
Imagine for a second that you are the client, you need a brand new website to start selling your hand-made jeans online, you aren't entirely sure what you want but you've seen some websites you thought were nice.
You hire a designer, send them your examples and they get to work. The first round of design is completed but you're not happy with what you're seeing and now need to spend an hour articulating your thoughts in a long email or document, copying and pasting screenshots for reference. Or even print out the designs, scribble your feedback on them and use your smartphone to take photos of them to send them back.
Can you see how this might make your client feel a bit powerless?
Now, imagine, instead, that when you see something you don't like on the live page and you simply click on it to articulate your feedback and required changes. It sticks a task there and allows you to comment on that thing directly!
This is what WP Feedback does: it gives your clients the power to easily leave comments on their own website without having any technical knowledge whatsoever, pinpointing the exact issue that is recorded as a task for you to action.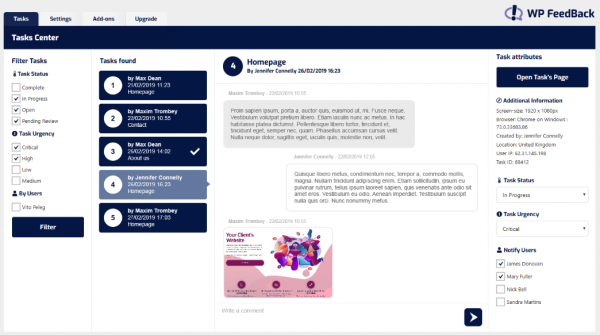 What are the main features of WP Feedback?
The plugin has many different features which all strive to improve your communication with your clients.
Add comments to specific points on any page of a live WordPress website, creating a task in the process
Assign specific user roles to a task, notifying them when it's created
Set the priority of a task, allowing your clients to let you know if a change is critical or can wait to be actioned
Change the status of a task on the frontend, notifying everyone associated to it
See the technical details of the user that made a comment: the resolution of their screen, the browser they were using and even their IP address
Want to add a screenshot of what you're looking at to the comments? All it takes is one button that is on the frontend.
There is a sidebar that will show you all of the tasks that have been made on a particular page, or for all pages
All tasks are organised neatly in the backend of the WP Feedback dashboard
You can choose the primary colour of the plugin and add a logo, making it yours or using your client's branding.
The plugin is being constantly worked on and updated
It works with any WordPress Theme and any page builder on the market
You become part of the WP Feedback Facebook community where you can talk with its creators and like-minded people and also request features for future updates.
Install and setup wizards for you and your clients.
No extra logins for you or your clients, it's fully integrated into WordPress.
Take it for a spin and get 10% off if you buy it
If you'd like to test out these features, they have created an awesome demo page here: https://demo.wpfeedback.co/ They've even included a demo for each of the most popular page builders, so no matter what you're using you can see it in action properly before you buy it!
Also for our readers, we've got a special deal with WP Feedback, use the coupon code wphosting10 for 10% off your purchase, go here to buy now!
There are an array of different tools out there that can be used for communicating with clients, some are too basic for everyday use and some are overloaded with features that you don't need. WP Feedback is a very focused plugin, where every feature is geared towards making your client's life easier, whereby extension it makes yours easier too.
Do you want to reduce friction with your clients and make it easy for them to visually communicate with you? WP Feedback might be for you.
GET 10% OFF WP Feedback
An exclusive offer to readers of the WP Hosting Blog.
Simply enter the wphosting10 discount code when purchasing the plugin.
Find out more about WP Feedback