Rock-solid WordPress hosting for your customers (minus the hard work)
Whenever I talk to agency partners I ask them about the latest developments in WordPress hosting, build and management space, as it feels like there is new tech being launched every week. We talk about some to more clever and useful tools but the discussion always ends with this kind of comment: "Mate,  cPanel works for us and you're there to support us. That's all we need, really."
Of course, servicing many customers and their WordPress websites is a complex affair. We've articulated part of that process recently in an eBook titled Project managing your WordPress hosting ops with Teamwork, so familiar with the type of work and the challenges that arise.
But I think that our strategy to fine-tune the wheel and not re-invent it has paid off for our customers too. We've been hosting WordPress websites for 10 years now and have a model that works well.
So, if WP Hosting for Agencies isn't a shiny new object then what is it?
Another point partners share with us is that they don't want to have to deal with hosting at all: migrations, email, troubleshooting issues, managing resources, etc…
Larger agencies employ Sys Admins that can easily hand all that, sure. But if your focus is UX or digital marketing then taking care of infrastructure becomes both a distraction and a cost.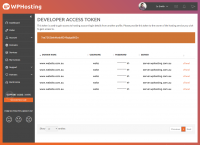 With our WP Hosting for Agencies offer, instead, we take care of all hosting and email stuff, liaising with customers directly. We bill and support them but keep you in the loop.
How so? Your customers can give you access to their cPanel accounts via a Dev Token. This allows you to log into your own account and list all associated customer hosting services.
The value you (and your customers) get out of this is not just about access, though. It's about forming and growing relationships over time, great communication, and trust, which is what a true partnership is all about. And I can guarantee you won't find better WordPress hosting support here in Australia.
We pay you a 10% commission too. It won't make you rich but it's a fair deal and your customers will be very well looked after. If they are happy with a secure and performing website they will be happy with you too.
Teaming up with Teamwork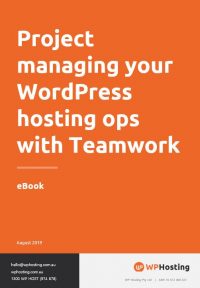 We've partnered with the good folk at Teamwork to offer our customers a 10% discount on their plans. I started using their tools 5 years ago and still do, so was very happy when they agreed to the offer.
You can use Teamwork to run your agency. Many do, in fact. They have recently launched a CRM product that can help you keep more businesses processes within the same platform.
Want to learn more about Teamwork and how it can help you save time servicing your customers? Check out our free eBook: Project managing your WordPress hosting ops with Teamwork. It includes a link to a sample project report that lists every task covered in the doc.
Teaming up with… us
There is a bit of a process to go through as our programs are not open to everyone. We want to make sure that we're working with agencies and developers that are as committed to quality and best practices as we are.
To learn more about the program and apply head over to the WP Hosting for Agencies page.
Any questions… feel free to reach out to me via partners@wphosting.com.au or in a comment below.
Cheers,
Lawrence
Marketing Manager