Kylie Meller of Duosista to reports back from #WCBNE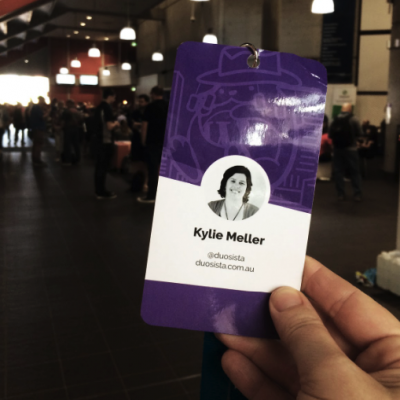 Kylie has been a WP Hosting Partner for over 5 years, based in Brisbane and a 'graphic designer that speaks human', so the perfect person to report back from WordPress Brisbane.
You can read up more about her and her work in our Partner Spotlight.
WordCamp Brisbane is a weekend of networking, web fun and awesome speakers covering a range of WordPress topics to suit all levels of users
This was my fourth time attending WordCamp in Brisbane and it did not disappoint. It's a jam-packed two days, but what I love most about WordCamp is the fact that they have a range of speakers who cover topics that not only relate to WordPress but that also relate to running your business.
Some of my favourite speakers this year were;
Kate Toon – 10 ways you can improve your website copy to drive more conversions
Kate's had some really easy tips and tricks we can all do to improve the copy we use on our websites. I've heard Kate speak at a few conferences now and her talks are alway fun and informative.
Peter Wilson & Ben White – Greenfields or die: modernising publishing for 2018
Peter and Ben gave an overview of how they helped Australia's largest media companies embarked on a high risk technical project – to replace their proprietary CMS with one based on WordPress. This talk was super interesting and it was mind-blowing to see what they had created based on the platform.
Ben McAdam – Know your numbers, increase your profits and stress less
This was the talk that gave me the most take away. Ben is a Virtual CFO and he talked about how business owners in the WordPress space can really understand their numbers. He gave 5 quick ways to increase your profits.  
Jen Jeavons – Humanising your digital experience
Jen explained how to humanising your brand online through a case study of their successful WooCommerce store Coffee Beans Delivered. It was interesting to see how they improved the User & Customer experience and the usability of the website through simple but effective changes.
Jane Tweedy – Packaging your web design service to save time and make more money
Jane explains how to package your web services to make you more money, while at the same time saving you time.
These are just my standouts, but you can view all the sliders for every speak on the WCBNE website. They will also release all the talk later in the year on video.
Lastly a big thank you to all the sponsors (that means you WP Hosting). This day would not be possible if not for the wonderful sponsors.
Camera Roll