JetSloth is an Australian startup developing Gravity Form add-ons that extend its functionality and speed up workflow.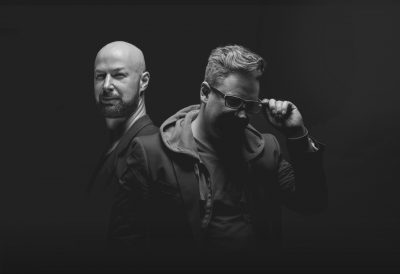 Brought to you by the team at Digital Republiq, a 'digital innovation agency specialising in unique client facing projects'.
JetSloth started as a bit of a hack to help speed up their development which was subsequently 'productised' and brought to market. It's their side gig now, but growing fast and evolving into a significant part of their business.
Blaz and Ben, owners of Digital Republiq, were kind enough to to answer our questions in detail as well as offer a discount to our readers (details if which are at the very end of this post).

Tell us about JetSloth. How did you get started and what is it about?
Like any good startup, our first plugin, Bulk Actions for Gravity Forms, came about when we were working on a client website. We had developed a custom WordPress theme for their site, which was a finance portal of sorts. They had a number of Gravity Forms, each with a tonne of sections and fields, as you can imagine.
Every time the client came back with updates to the form, you can probably imagine how painstaking editing dozens of fields per form was. As much as we love Gravity Forms, there was just no quick way to bulk edit fields within the default form editor.
We needed to move entire sections or groups of fields around the form, and doing this one field at a time took hours! So after the first couple of rounds my co-founder and I whipped up a Javascript snippet, copy-pasted it direct into the developer console in Chrome and tested our little hack out.
Not only did it work super well, it saved us a stack of time on the project. From that little code snippet we wrote, we knew other Gravity Forms users around the world could do with this gem, and just like that JetSloth was born!
We still have that code snippet saved on our computer today! We obviously built upon that initial hack, rewrote it into a proper Gravity Forms addon, and Bulk Actions for Gravity Forms has grown with even more functionality. It's still one of our favorite plugins we've released to date!
Who are your target customers? How do you differentiate JetSloth from its competitors?
Our target market is the WordPress community. Both DIY and WordPress developers. Our plugins help either save time editing Gravity Forms plugins, or help make them more usable and look amazing.
Initially when we started we were really talking to like minded WordPress developers, however quickly found that a lot of our customers were DIY users. Over time we're slowly adding in functionality to our plugins to better suit the 'non-technical' users, and make it easier for them to get the desired result they are after,
Unlike other plugin shops online, JetSloth is somewhat unique. JetSloth was co-founded by Blaz (Designer) and Ben (WP guru) as a side hustle to our web design agency. Working on client's websites day in day out, allows us to see pain points in WordPress, and address these issues commercially. JetSloth is the platform we do that on.
The two things that set JetSloth apart from others is:
We're a designer/developer duo. This means we can have full control over the look and feel of the brand, website, plugins etc, but also develop in-house to ensure everything is how we want it. Most other plugin shops are generally developers selling their ideas online and not pushing the "design" element into their marketing approach. This enables us to control everything from how the sales pages look to how the plugin functions. We simple put the skillsets we sell to our agency clients into work for our own products.
JetSloth is a side hustle. This means it's a playground for us to express ourselves visually and creatively. There's no one telling us how WordPress plugins 'should' be sold online. With that, we go to town, pushing away from the norm. This has really help us gain strength on the market. We're not bound by traditional concepts to communicate our ideas. And most importantly, we have fun with it. This playfulness and not taking the brand or ourselves too seriously, really gives the brand a memorable experience and the business an edge online.
You're offering 4 plugins; can you describe these for us?
Our product development process is super exciting. It's a creative space for us to come up with new ideas and prototype them. Most of our plugins focus on how to improve the front end user experience of Gravity Forms.
Take Image Choices and Collapsible Sections for example. These plugins both simply came about with us wanting this functionality for ourselves when working with Gravity Forms, to improve how users interact with forms and making it easy for clients to manage.
Gravity Forms Image Choices
We're pretty certain anyone that's needed to have images in their Gravity Forms radio buttons or checkboxes has just had to enter the raw HTML markup for the image into the field or choices labels (and many still do!). That's exactly what we were doing for a long time. We'd use them in survey forms, competition entry, product forms and others, all easily built and managed with Gravity Forms except for those images.
Most clients don't know or want to be digging up absolute URLs to images, editing HTML etc. and so invariably they end up continuing to ask us to make the updates. This pain point inspired us to look at how we could add some UI within the form editor to easily manage these images. So we put together a basic prototype to see what we could do, and Image Choices was born.
It's super easy now. With the addon installed, you enable images on a radio button or checkbox field and each choice has a Media Library button for uploading/attaching an image. The default styling of the image choices is pretty simple, but with an area in the form settings for custom CSS and some examples on our site, users can style them in almost any way.
Gravity Forms Collapsible Sections
Dealing with large forms a lot, and wanting to improve the end users' experience completing the forms, again drove us to create our most recent addon. We'd often use Section fields to break up large forms and group relevant fields together. We'd also use the accordion UI in website/theme builds several times (outside of forms) to organise groups of content. So much like we'd done with the others, we started by hacking together some Javascript and played with collapsing the fields in Gravity Forms sections. It worked well, and in a matter of hours we had our next plugin, Collapsible Sections.
Adding them to forms is simple. With the plugin installed, any Section field in your form can be set as collapsible. Just as with Image Choices, the default styling is quite basic, but we provide a settings page with an area for custom CSS allowing users to style them in their own way – eg to match their WordPress theme. Our site again has some example of what can be achieved.
Bulk Actions for Gravity Forms
Our very first plugin, this is probably the best timesaving plugin we've every built. We've had so many customers comment on how many hours they've saved using it.
Bulk Actions for Gravity forms is targeted to WordPress Gravity Forms users that have very large forms with lots of fields. The plugin makes it super quick and easy to delete, re-order, and duplicate lots of fields at once. You can select as many fields as you like and reorder or delete them in an instance. Something that power users of Gravity Forms will quickly note takes a long time to do without our plugin.
There are, of course, thousands of plugins out there in the wild and even Gravity Forms has nurtured a healthy ecosystems of add ons. How do you go about promoting JetSloth in a crowded marketplace?
No surprises but our marketing is not great. We run all the typical channels, such as:
Twitter
Instagram
Facebook
Blog
Newsletter
All of which have not yielded amazing results over time but we still feel it's something worth doing for our growing community. Hands down the two best marketing solutions we have are organic search results and affiliate marketing.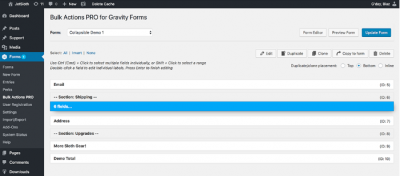 SEO
Our add-ons are very niche and serve a purpose, so unless you're looking for that solution within Google, chances are you wont come across our site. This is good and bad.
The good thing is, something like Bulk Actions for Gravity Forms, for us ranked really well. We spent a little time making sure that page would rank well for terms related to the problem the plugin addressed. Thankfully, those search terms had no competition and we snapped that search up fairly quickly, giving us our initial sales. The ranking efforts from that point on seem to also have helped the overall site and now ranking new products is slightly easier.
The conversion rate of organic traffic is also great. We'd like to think that this is due to a mixture of great landing pages and the product meeting the customers needs.
Affiliate marketing
We recently joined with another website who now sends us traffic as an affiliate. They run a Gravity Forms related blog and this partnership has been amazing for the growth of our business. Their website ranks really well for Gravity Forms related searches so leveraging their traffic has increased sales overall by double. This is a great partnership and whilst we pay out a percentage of the sale to the affiliate, it's 100% worth it's weight in gold.
The traffic they send us is quality traffic as their blog is a great source of learning so the conversion rate is extremely high.
[tweetshare tweet="Don't just build a product, build a brand, build an experience… and most importantly, do it differently to everyone else." username="wphosting"]
Product 'hacking'
We find one thing that works well is showcasing what is possible with our plugins. We do this by testing how far we can take our plugins with a little bit of customisation. This captures customers imagination really well.
Take our latest Image choices post for example. We took our Gravity Forms Image Choices plugin and wanted to see if we could make a product configurator with using only our plugin and Gravity Forms. No theme editing or fancy coding in the background.
We literally hacked at putting a form together using all the limitations a typical WordPress customer would have and the results were magical.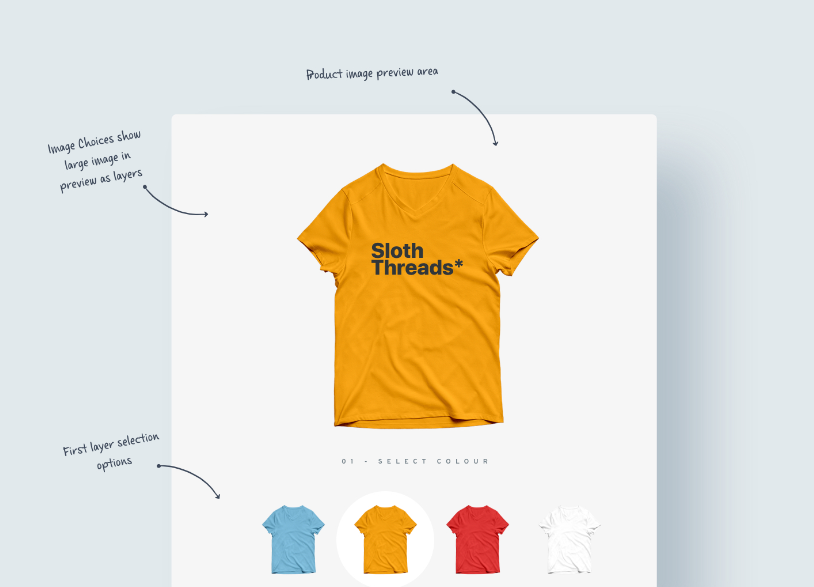 We then gave away all the custom CSS and jQuery we had written to get the functionality we needed, and released a how to video to document the process so existing customers could have a go at trying the same thing.
This type of product hacking really helps with social reach and general awareness of the brand. Showcases our need to always innovate.
What on the roadmap for JetSloth? Any new plugins coming soon you can talk about?
The main focus for this year will be releasing a new add-on we've prototyped for Gravity Forms, then going back and updating our sales website, and pricing model.
There's a lot involved to ship a new product. Product development, testing, refinement, sales page creation, marketing copy, videos, artwork etc. This takes up a lot of man hours.
We've grown the site to a point where we feel we owe it to ourselves to step-up the sales experience online. We launched the sales website with one product in mind and we've now outgrown that site. So we need to redevelop a sales experience to match the brand we've built. Fun and exciting but a huge job to complete.
We've also got a couple of ideas to help with marketing of the brand, which we hope will go viral and help with reaching a broader audience. These ideas are super fun and we can't wait to launch them around the middle of the year!
JetSloth is 'Made in Australia', as are a number of other popular plugins (see Metorik, ACF, WP White Label and many more). Is there something in the air here in Australia that helps us build awesome products?
Great question! I'm not really sure why Australia makes so many great plugin shops, but I can only guess it's due to the amazing WordPress community here. There's no shortage of community groups or meetups to attend, to listen to how others have successfully created and launched their first plugin.
To conclude, any tips for budding plugin developers to get going?
Easy, start today. It's been a slow burn but the journey has been so amazing and immensely gratifying. We're not only building our customer base but building a community of people that love what we do.
The biggest reward for us however has been building a brand that we love. JetSloth is more than just an add-on shop for us. The brand sums us up to a tee: innovative and fun.
We're not limited to a big corporate style guide or brand guidelines. Our guidelines are simple, innovate as much as we can, and above all else, have a great time doing it.
Being a two man team with NO red tape in our business allows us to be us and enjoy what we do, resulting in great products and a brand we hope people can relate to.
The financial rewards that come with that mindset just prove to us we're doing it right. It gives us the freedom to continue growing the business, in the timeframe, and direction we want.
Don't just build a product, build a brand, build an experience… and most importantly, do it differently to everyone else. Take risks, push boundaries, say things you're not meant to, market in ways no one else does.
Be bold and customers will find you.