In this first post of a five-part series, we introduce Trello as a project management tool and explain how it can be used to plan and track your business' roadmap.
Trello is a collaboration tool based on the post-it-notes-on-a-whiteboard paradigm that can be used to manage all kinds of processes and scenarios.
It's simple, flexible and 'visual', and used by millions of people to keep track of both business and personal tasks. The free version is feature-filled, which has helped grow the user base significantly. And it comes with a healthy ecosystem of extensions.
Here at WP Hosting, we use Trello to track big picture items as well as the more granular tasks. We've set up shared boards for group projects as well as personal ones to help us keep our day-to-day routine organised. We have integrated it with other tools from our stack and use online forms to capture submissions directly into boards, saving us from additional copy-and-paste steps.
While Trello is the market leader, it's not the only option available. Search for a 'Trello alternative' and you'll find many capable options.  Have a look at Kanban WP plugin, if you prefer to run your business functions out of WordPress.
This first post focuses on a more strategic process: mapping out, at a high level, key programs of work over the long term. We'll cover these by showing your real Trello boards as examples (based on activities and tasks a fictitious WordPress development agency would carry out). You'll be able to copy the boards and adapt them to your own scenarios.
Please note: You'll get the most value out of these posts if you familiarise yourself with Trello first. You can do so by accessing our sample boards or, better still, signing up and playing around with your own.
Trello as a roadmapping tool
It's interesting to learn that Trello noticed that a lot of their users are sharing roadmaps with their customers via public boards, for transparency and to consolidate feedback. However, users do have the option to keep boards private and restrict access to specific users.When you're se
tting up your own board, you need to decide the timeframes you want to work with. In our example, we chose to represent quarters (for a single year) and created Lists for each.  You may want to plan your work across 12, 24 or 36 months instead, and align this with the timeframes you've set for your long-term business goals.
We have also set up a Parked list for activities that you may want to temporarily drop off the roadmap.
With a timeline in place, it's time to populate it with bodies of work, which we'll call 'activities', adding them to each list as Card.
Using Cards to represent strategic activities (and Labels to categorise them)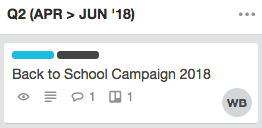 On our sample board, we've added a card for a Back to School Campaign 2018 activity. It features key information for the activity, attachments, and comments left by members of the team. The idea here is to include all the information you need in an easy-to-read format. You can add a Checklist too, which is a simple to-do list. But given this is a high-level item, anything to do with execution is managed via separate cards on separate boards.
Labels are used to categorise and filter cards, and you have to decide what taxonomy to use. This could be by brand, business function, both or any other criteria you choose. In our example, we are using three levels of categorisation:
Business functions
Operations
Product Development
Campaign
Customer Engagement
Content Development
Status
Brainstorming
Planning
Execution
Delivered
On Hold
Cancelled
Labels can feature different colours and we've used this to help us distinguish between different types of categories:
Business functions – different colours for each (except dark grey)
Priority – dark grey
Status – No colour
With a 'label taxonomy' defined and applied consistently, you create views of your Roadmap as specific as: 'All High priority Operations cards that are being Planned.'
Include a PROCESS list of instructions and resources
Unless you're the person setting up a board and defining its processes and taxonomies, as described above, you'll struggle to get started.
Show a newbie around Trello if you can (and we have a board specifically for this) but document your process, too.
We do this using a PROCESS list that consistently features a README.txt card at the top, that explains how to use the boards, cards and labels.
Below this, and linking from it too, we have included a card called ROADMAP ACTIVITY TEMPLATE: Activity Name. This is pre-populated as much as possible so that users can make a copy, save it to the relevant list, and add the relevant information.
Not only does a template card help the end user save time but it also ensures that information is added consistently.
Keeping the roadmap up to date
Once you have set up your board, fill it with labels and templates and activities. You'll need to keep it up-to-date and communicate changes to the rest of the team. Here are some tools to help you with this:
Setting due dates for your activities. These could be deadlines that you can't push out, and if a card passes its 'sell by date' you can move it to the Parked list (or delete it).
Use Stickers to quickly flag activities as good ideas, bad ones, etc. as part of your brainstorming sessions. You can then go back to the roadmap and update each flagged card in your own time
Use a Power Up (an 'Add-on' in Trello-speak) to integrate your board with other tools, such as Slack, DropBox, and even product development apps such as InVision and draw.io
Get email alerts when Cards are updated (via a Zapier integration)
Indeed, Trello is a tool that helps you keep your roadmap up-to-date. However, this is only effective when someone or the team takes ownership of the tasks and schedules a time to review and update it. If you don't have a project manager, then nominate someone to wear the hat. A good approach is to open the board during your strategy meetings and update activities as you discuss them – Trello's UX is perfect for this.
Next in the series: Using Trello For Partnerships & Collaborations
Partnerships and collaborations are key strategies to help promote our brand and products, as well as from those we collaborate with.
Our Affiliate and Reseller program is an example of this strategy, reaching out to work with vendors, suppliers, subject matter experts on dev projects, commercial initiatives and content development.
For the program design, we have a preconfigured board on Trello to manage a Partnerships & Collaborations pipeline to find and sign up partners.
Subscribe to our Newsletter to be notified when the other posts of this series are being published.